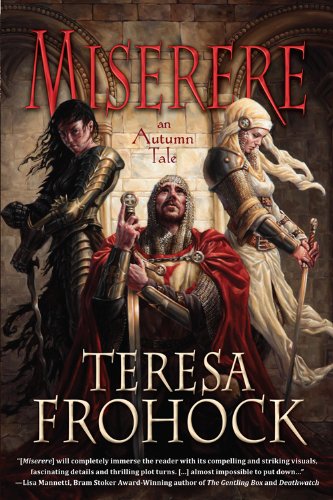 "Each weekend I recommend three books. Some are books I've read and some are books I want to read. Some have been written by my friends. Or maybe I'll just post a good deal I saw online. Just a little something to expose you to the kind of books that interest me."
Miserere is the debut novel of Teresa Frohock. I've been intrigued by this book since I first laid eyes on it. Maybe it's because of the strikingly gorgeous cover. Maybe it's because it looks like supernatural, crusader-type fantasy which I think is awesome. Regardless, I picked it up because it's only $2.99 right now on Amazon. You should do the same.
You know how every week I name at least one book on my to-read list that I really want to get to? Yeah, The Winds of Khalakovo by Bradley Beaulieu is the one for this week. I like to think of both Brad and his goatee as good friends of mine, ever since he taught me how to say his last name properly. I'll give you a hint: it looks like there isn't an 'r' in his last name but there is. Anyway, The Winds of Khala... The Winds of Khal... Brad's book is just $.99 right now so you should get it. Oh and as it turns out, Brad has put all three books on sale. So go ahead and pick up books two and three, The Straits of Galahesh and The Flames of Shadam Khoreh for $.99 each as well.
I'm going to guess that most of you have seen The Princess Bride. If not, you should buy it immediately, because it's one of the best adventure movies ever made. I'm also gonna guess that most of you have not read the book upon which it is based. The Princess Bride: S. Morgenstern's Classic Tale of True Love and High Adventure by William Goldman is an absolute gem. I won't go on about how the book is better because it's honestly a coin toss for me, and they are two very different experiences. It should immediately go near the top of your to-read list.